"The Handoff" is the second episode of Season 7, and the seventy-seventh episode overall. It aired on April 7, 2016.
Archer and Lana make a tricky handoff while the rest of the gang hears the best voicemail ever.
Picking up immediately where "The Figgis Agency" left off, Archer and the rest of the Figgis Agents realize that they've been had. Veronica Deane shows up at the office to report that she's being blackmailed after having been robbed of a computer disk with some "sensitive" information on it; the very same disk marked "Longwater" that the agents just stole and delivered to an enigmatic woman posing as Veronica Deane (a fact Cyril almost accidentally reveals). Deane promises $200,000 for the disk's return and the detectives eagerly take the case.
Archer and Lana head to Alan Shapiro's mansion, or rather "return" to it. While the guard dogs recognize them, Shapiro, fortunately, does not. The blackmailers have informed him to bring 2 million dollars in exchange for the disk. Lana poses as Shapiro's chauffeuse, Archer hides in the trunk, and the three of them drive out to meet a gang of bikers and carry out the handoff. All goes according to plan until one of the bikers opens the briefcase to find not 2 million dollars, but rather 2 stacks of Pam's flyers for the agency. Outmanned and overpowered, Lana, Shapiro, and a still unaware Archer, are taken by the bandits back to their hideout.
Meanwhile, back at the agency, old habits die hard as Cheryl, Pam, and Ray slip back into general malaise. Malory encourages Cyril to reinvent himself from the uptight, control freak he was in New York to someone better, and insists the others get to work and make contact with Archer and Lana, who are overdue with their report. Against their best judgment, they call Archer's phone.
Archer's ringtone sounds from inside the limousine trunk, alerting the bandits to his presence. What follows is a very drawn out and graphic-sounding fight between Archer and the bikers, which the agents mistake for the latest and most elaborate of Archer's voicemail pranks. Having dealt with all but two of the bandits, Archer finds Lana and Shapiro handcuffed to a pipe in the kitchen. Shapiro reveals several things: that he didn't bring the money because neither he nor Deane could afford it, that he knew the detectives used to be spies, and that he's in love with Veronica Deane. Archer lets slip that they were the ones that stole the disk in the first place (and poisoned the dogs).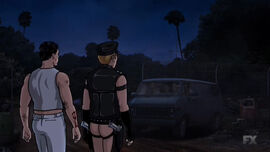 All the commotion alerts the bikers. They plan to kill the three of them until Shapiro offers the $200,000 cashier's check that was meant for the detectives. They're about to take the money when Malory and the others, having realized the call wasn't a prank, burst in and save the day.
Back at the office, Cyril leads a post-mortem of the case. The event is a qualified success, but questions still remain: What is "Longwater", and who's trying to blackmail Veronica Deane? Mysteries aside, the Figgis Agency has made a cool $200,000 and Shapiro has promised to recommend the group to his Hollywood contacts. Things are looking up.
Starring :
Guest Starring :
Co-Starring :
Fridge Magnet:  referred to twice in this episode
Elderly Arousal:  Krieger gets hard around old people, ("Me too!") and at the suggestion of Lana being on Malory's teet.  ("I'm never going to be able to stand up!") [breaks fourth wall]
The Sound of Wood: Archer can be 'heard' getting hard, a callback to "Pocket Listing".
Fake Mustaches: Archer puts one on when preparing to pose as the chauffeur.
Phrasing: Archer brings it back in this episode.
Mulatto Butts: The famous ringtone also makes a comeback.
Voicemail Hoax:  The infamous voicemail hoax apparently returns:  events taking place over the line constitute what would have been "the best voicemail ever!" according to Pam.  A quick-cut between scenes shows a Archer in agreement saying "it would have been, it would have been".
Pezzo di Merda: Archer laments that his new Ferrari is still out of commission.
Leave It: Malory hesitates to call Archer, fearing another elaborate voicemail hoax. When she finally gives in and calls, everyone at the Figgis agency hears Archer's gruesome fight with the biker gang and assumes it's Archer's most protracted hoax yet. Some time later, after hearing cricket noises, they are aghast to learn that Archer really did answer.
Rampage: "I was in rampage mode."
Krieger Retorts: Krieger brings back two of his most common retorts - "Me, too" and "Also yes", which have been referenced several times in the show.
Smells Like Glue: Cheryl is once again seen with an open bottle of glue.
Trainwreck: Myrtle Beach is referenced once again under a negative light.
Incendiary: Cheryl is shown once again starting a fire with the fake check. Also, she holds a blow torch to one of the biker's heads.
True Spy: Krieger accidentally reveals that he tracks cell phones of the whole group..
Inappropriate Erection/Me too!:  Krieger's tendency towards the inappropriate wood continues.
Milton makes his first appearance in this season.
Archer's remark "It's after Labor Day" is a reference to a fashion idea that white shouldn't be worn after Labor Day.
After "Phrasing", which may be back, and "Blorp", apparently "On My Tits" is a new comeback for sexual innuendos.
Archer's face still shows visible signs of damage from the fall he took from the patio of Alan Shapiro's mansion in the last episode, "The Figgis Agency".
While sitting at the lobby desk (and spinning in his chair), Ray's cybernetic arm shares his actual skin tone, as opposed to it being a Black arm.
In one shot Cheryl is shown spinning in a lobby chair holding an open bottle of rubber cement. There is a short cutaway to Milton followed by an immediate cut back to Cheryl and others in a wide shot with the rubber cement nowhere in sight.
Archer: "Would you care for a drink?"
Lana: "Archer its barely 9 ..."
Veronica Deane: "Corpse Reviver #2, please but if you don't have real Absinthe I'll have double Sidecar, French"
Malory: "Oh, that sounds good, I'll have..."
Archer: "There's not enough."
─────────────────────────
Malory: "Which is an excellent segue into a brief overview of our fee structure."
Veronica Deane: "Two Hundred Thousand dollars."
Cyril: "Wow, that was brief."
─────────────────────────
Archer: "Okay, so what do we know?"
Lana: "Um, old ladies give you a boner."
Krieger: "Hey me too!"
─────────────────────────
Lana: "Okay Archer we've got nine, check that, ten bandits at twelve o'clock."
Archer: "Copy that Mav, what's the hard deck?
─────────────────────────
Cheryl: "Okay, as distasteful as it may be you have to at least try him."
Malory: "No!, no I don't care if they are in danger I am not calling Sterling. Voicemail hoax, voicemail hoax, bwak, bwak. I don't care if they're getting stuffed into a wood chipper."
─────────────────────────
Lana: "So I would love it if you would shut up so I can think of a way out of here."
Alan: "Uh, want to try yanking on the pipe?"
Archer: "Phrasing."
─────────────────────────
Archer: "Oh, and I also got stabbed."
(Cyril writes down "Archer Stabbed!" on the Pro section and underlines "Stabbed" twice)
Archer: "How is that a pro, you dick?"
Cyril: "Hmm, learning experience?"
Archer: "Well, joke's on you, I didn't learn anything."
Lana: "There's your fridge magnet."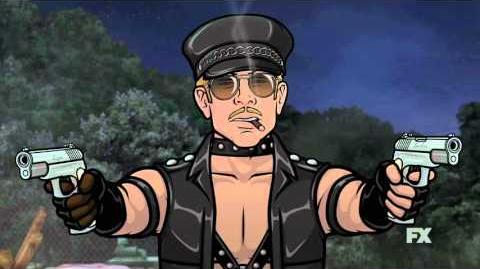 There are 22 screenshots and images from "The Handoff" on this Wiki, visit the category page for a complete gallery.
Community content is available under
CC-BY-SA
unless otherwise noted.