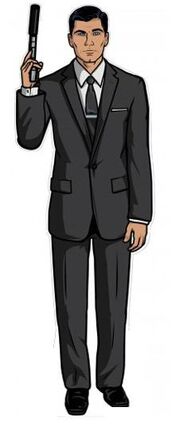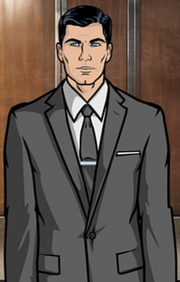 Tailored Suits is Sterling Archer's preferred clothing item. He has a large quantity of them. Woodhouse tailors them for him in his sewing room.
When Popeye takes over the cleaners, he holds some of Archer's suits as collateral for the money Sterling owes him for prostitutes.
When Sterling is forced to train Cyril Figgis as a spy, he has Woodhouse tailor a suit for Cyril.
In "Pipeline Fever", Archer informs Lana Kane that he is wearing an Hermès tie, which is an exquisite brand of silk tie from Paris.
In White Nights, Archer reminds Barry Dylan that Barry tore Archer's bespoke Savile Row suit and bespoke Turnbull & Asser shirt. Turnbull & Asser are London shirt-makers who advertise that their clients include James Bond. When Barry asks Archer why he is wearing silk socks, Archer responds, "Is that a joke?" Archer also tells Russian military police that, although loafers obviously work with a turtleneck, that he, approvingly, is seeing them more and more with casual suits.
Archer also states that neckties should always be handwoven of Thai silk from the wild Satumiidae silkworm and prefers the full Windsor or the Pratt knot and that you should only wear a bow tie if the rest of your clothes are a tuxedo. Archer is very particular with pocket squares (a handkerchief in the breast pocket of a suit) and says it should always be a square, also known as the Presidential, three-eighths of an inch above, and parallel to, your breast pocket. His shoes are all handmade by a cordwainer (shoemaker), Signore Antonio Carbone, in Italy. As with all of Archer's choices concerning personal style, cuff links should be understated yet elegant -- avoid cufflinks that are tiny snow globes, tiny silver skulls, anything related to hunting/fishing, and unless you are attending a black-tie function or an Indian reservation, avoid cufflinks made of turquoise.