The first season of Archer commenced airing on January 14, 2010, with a one-hour premiere consisting of two episodes. It concluded on March 28, 2010, containing 10 episodes. The first episode, "Mole Hunt", was aired as a sneak-peek on September 17, 2009.
Trailer
[
]
Season Synopsis
[
]
Suave secret agent Sterling Archer is the world's most dangerous spy, but political intrigue and global crises are nothing compared to the sexual tension and human resources crises at the intelligence agency where he works. Archer must deal with his over-bearing, over-sexed mother--who is also his boss--and his femme fatale ex-girlfriend who seems to be sleeping with everyone except him. Embezzlement, mind control, hangovers, and demented double crossings--they're all in a day's work in this outrageously raunchy comedy!
Episodes
[
]
( v )    Screenshot          
Episode Title
Original
Air Date
Production Code
Season Ep. #
Overall Ep. #
"Mole Hunt"
September 17, 2009
AR01001
1
1
Sterling Archer is questioned by his boss and mother, head of ISIS, Malory, about discrepancies in his expense account. Meanwhile, they begin searching for a mole in their company.
"Training Day"
January 14, 2010
XAR01002
2
2
Archer begins training Cyril to become an ISIS field agent when Malory promotes him from being a comptroller.
"Diversity Hire"
January 21, 2010
XAR01004
3
3
A new field agent makes a splash at ISIS, but Archer and Lana suspect there may be something all too perfect about their new diversity hire.
"Killing Utne"
January 28, 2010
XAR01003
4
4
Malory hosts a dinner party for the UN intelligence chairman, Torvald Utne, in an effort to get a new weapons contract for ISIS. Unfortunately, a group of rival assassins have targeted Mr. Utne for elimination.
"Honeypot"
February 4, 2010
XAR01005
5
5
Malory's career is threatened when a sensitive videotape falls into the hands of a rogue (and roguish) Cuban agent, so she calls on Archer's expertise in seduction to turn the tables on her blackmailer.
"Skorpio"
February 11, 2010
XAR01006
6
6
Archer must rescue Lana from the clutches of Skorpio, the infamous arms dealer. Meanwhile, Cyril fears not only for his girlfriend's life, but her succumbing to the seductive nature of Archer's heroics.
"Skytanic"
February 18, 2010
XAR01007
7
7
When a bomb threat jeopardizes the maiden voyage of the luxury airship Excelsior, Archer and the ISIS crew must battle the clock (and each other) to avert disaster.
"The Rock"
March 4, 2010
XAR01008
8
8
ISIS loses yet another contract to ODIN, so Malory assigns Archer and Lana to steal a priceless diamond from ODIN's biggest client in order to embarrass the rival spy agency.
"Job Offer"
March 11, 2010
XAR01009
9
9
Archer takes a better-paying job at rival agency ODIN, and Malory is determined to get him back.
"Dial M for Mother"
March 18, 2010
XAR01010
10
10
Questions about the identity of Archer's real father lead him into a perilous trap... and an explosive confrontation with Malory. Meanwhile, Lana confronts Cyril about cheating on her and gets revenge.
Season Cast
[
]
Trivia
[
]
Home Release
[
]
Main article: Archer: The Complete Season One (DVD)
Gallery
[
]
Videos
[
]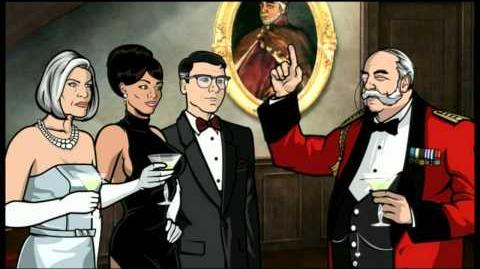 External Links
[
]
References
[
]
[

]