Keegan-Michael Key
Archer Verse Information
Voice of
Detective Diedrich &
Floyd
Biographical Information
Birth Name
Keegan Michael-Key
Date of Birth
March 22, 1971
Place of Birth
Southfield, Michigan, U.S.A.
Gender
Male
Additional Information
Occupation
Actor, Comedian, Writer, Producer
Years Active
1999 - Present
Notable Roles
Key & Peele
Personal Website
Keegan-Michael Key on IMDB
Keegan-Michael Key (born March 22, 1971) is an American actor, comedian, writer, and producer who currently co-stars in the USA Network comedy series Playing House.
Key is probably best known for staring in the Comedy Central sketch series Key & Peele between 2012 and 2015.
He has also spent six seasons as a cast member on MADtv and made several guest appearances on the improvisational comedy show Whose Line is it Anyway?. In 2014, he also starred in the first season of the FX series Fargo and the sixth and seventh season of the NBC series Parks and Recreation.
In 2016 Keegan-Michael Key provided the voice for the recurring Detective Diedrich in Season 7 of "Archer"
In 2017 Key also began providing the voice for his second character, Floyd, the Bass Player for the Dreamland House Band in Season 8.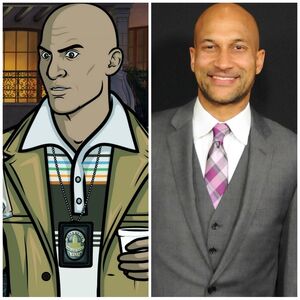 It appears that Keegan-Michael Key served as the model for his character Detective Diedrich.
Key has previously worked with H. Jon Benjamin ( voice of Archer ) several times on Bob's Burgers.
Key is a frequent voice actor in both movies and television. As of 2017 he has lent his voice to 5 movies and 10 animated series.
For his appearances on Archer during season 7 he is currently credited on IMDB as "Detective Rimshot".
External Links
Edit
Community content is available under
CC-BY-SA
unless otherwise noted.