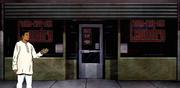 Four-Five-Six Laundry was located in New York on the ground floor of the ISIS headquarters building, the laundry serves as the primary entrance to ISIS the elevator to which is disguised as a dryer (as seen in "Mole Hunt"). The laundry is well respected in the neighborhood considering the objections raised when ISIS employees are thought to be picketing it in "The Rock". The space is owned by Malory Archer who rented the space to a manager that Sterling found unprofessional. Sterling often complained of the manager's sweatiness and leaving a strong smell of curry in his dry cleaned shirts. The manager likewise complained of Sterling's inability to pick up his shirts or return their calls.
Malory sold the cleaners to Popeye after she fell victim to a Ponzi scheme and needed money in order to keep ISIS. Popeye has since renamed the business to Popeye's Suds and Duds.
Business Policies
Edit
Four-Five-Six Laundry requires the following to accept a personal check: Drivers License Number, Date of Birth, and Daytime Phone Number.
There is a minimum of 10 lbs for wash, dry and fold services.
Four-Five-Six Laundry does accept suede.
The entrance to ISIS being through the Four-Five-Six Laundry is a reference to the popular 1960's American TV program The Man from U.N.C.L.E., where the "Agent's Entrance" was through a dressing room in Del Flora's Tailor Shop, which was also a dry-cleaning shop.
4-5-6 is a series of protocols issued by various international agencies following events of the 4-5-6 incident Torchwood (Doctor Who universe). The 4-5-6 incident took place in June 2009, 3 months prior to the release of episode 1 of Archer.
Gallery of Images
Edit
There are 2 images of Four-Five-Six Laundry on this Wiki, visit the Four-Five-Six Laundry gallery to view all the images and screenshots.
Community content is available under
CC-BY-SA
unless otherwise noted.