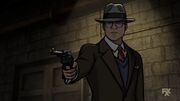 Cyril Figgis (Dreamland), or Detective Sergeant Cyril Figgis, is the dream persona of Cyril Figgis in Season 8: Dreamland.
Appearance
Round glasses, greying above ears; 
Wears a trilby, waist coat and long over coat 
Character Traits
Corrupt cop / "bad cop"
Weak willed
Plot Involvements
Figgis receives a pay off from mobster Len Trexler in order to turn a blind eye to his people smuggling operation. When the women are rescued by - unbeknownst to Trexler or Figgis - Poovey and Archer, Trexler compels Figgis and Poovey (who didn't get paid off) to hunt down the two responsible.
Continuity
tba
Cultural References
tba
Trivia
tba
Quotes
tba
Gallery of Images
References