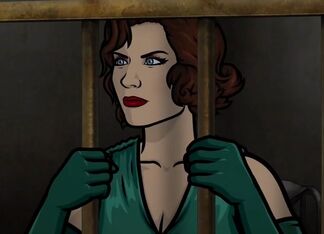 Charlotte Stratton (nee Vandertunt) is the dream persona of Cheryl Tunt in Season 9 "Danger Island".
Backstory
Edit
"Having come to Mitimotu on her honeymoon, heiress Charlotte Vandertunt became a permanent fixture in Malory's bar after her new husband caught her in bed with Archer. In an uproar, her husband has left, taking Charlotte's passport with him. Now she's stuck on the island until someone (say, someone who has an airplane) will agree to take her to the capital of Papeete to get a new passport. In the meantime, of course, Archer wants exactly nothing to do with her."[1]
Appearance
Edit
Elegant and heavily made-up when not disheveled or pass-out drunk in lingerie
Only packed enough clothes for her honeymoon
Spends a good few episodes in her assorted nightwear and dressing gown
Character Traits
Edit
Noisy but harmless
Easily lead, manipulated
Weak-willed damsel who finds renewed strength (empowerment?)
Self-governing business "owner" and "operator"
Expensive tastes - endives, oysters desired
Bear claws and Pierre Beaubais are what's goin down
Continuity
Edit
Her maiden name is Vandertunt, thus she is the identical dream persona as the one featured in the previous season, Charlotte Vandertunt.
Cultural References
Edit
Lady Baltimore / Butch Cassidy and the Sundance Kid (1969): when Malory called Charlotte 'Lady Baltimore' this is most likely a clever combined reference to:

Charlotte Lee, an English noblewoman who was titled Lady Baltimore after marrying Lord Baltimore, and
the tracker "Lord Baltimore" from Butch Cassidy and the Sundance Kid.  

Lady Baltimore's name was Charlotte; Lord Baltimore was a tracker.

Belgian Endive - a member of the dandelion family, this cultivated chicory is known as 'white leaf' or 'white gold' and held in high esteem for it's flavour.
Weir of Hermiston (unfinished) - cut short by his death, this novel is less well known than Treasure Island, but was praised as having the potential for a masterpiece.
Finch College: the famous college and 'finishing school' closed its doors in 1976.
Bear claw (pastry): a pastry similar to a Danish, originating in America in the early 20th century.
Hunger (2008): The chocolate smeared on the back wall of Charlotte Stratton's jail cell is a reference to this Steve McQueen film which depicts the events of the dirty protest, a Northern Ireland prison protest which included prisoners smearing feces on their cell walls [4].
Charlotte:  "You destroyed my marriage!"
Sterling: "Hey, it takes 2 to tango"
Pam: "And obviously you guys already had some problems, so…."

Ray: "Zut alors!"

Charlotte:  "You wanna talk problems?!" [drinks deeply from decanter] "My marriage is ruined: when my family find our why, they will disown me, as will all of New York society.  I have no money, no job, no skills and no prospects - and it's all your fault!  And so right now the only thing I want in this world - besides for you to die of some heretofore unknown form of eye-hole cancer - is to get off this god-forsaken island!!!"
[cut to plane leaving the island] [irony no.1]
Charlotte:  "And when does it come back?"
Pam:  "2 weeks"
Charlotte:  "And Whitney's on it?"
Pam:  "Uh-huh"
Charlotte:  [Cries]
Pam:  "Ah, come on now, it's not that bad…"
Charlotte:  "He has my passport…" [irony no.2]
─────────────────────────
Person 1: "Quote Here"
Person 2: "Quote Here"
Person 1: "Quote Here"
Gallery of Images
Edit
References
Edit
Community content is available under
CC-BY-SA
unless otherwise noted.