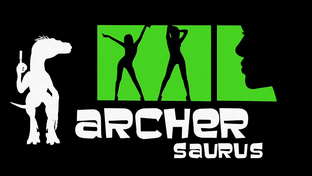 Archersaurus is the "original unaired pilot" of Archer, available on the first season DVD. It is the Mole Hunt, the first episode of the series, only with a Velociraptor playing the role of Sterling Archer, speaking only in roars. A feature on the 2nd season DVD follows up with a feature "Archersaurus: Self-Extinction", following the "actor" and his fate after his Pilot episode was rejected.
Running Gags / Callbacks
[
]
Dinosaurs - I don't think this is an unaired pilot. I think that after they did the first season of Archer and it was going to DVD, they decided to do a riff on a visual gag from Frisky Dingo, in which Xander Crews attacks his Awesome X doll with a dinosaur doll during his search for a new nemesis. This "episode" is only even remotely funny if you've seen Frisky Dingo. Otherwise, it makes no sense. The idea that it was an unaired pilot is just part of the gag. In S10 E6, "Road Trip", the dinosaur-like alien who hunts the crew has the face and feet of Killface from Frisky Dingo.
Trivia
[
]
H. Jon Benjamin was credited at the end of this episode, although he wasn't voicing his character.