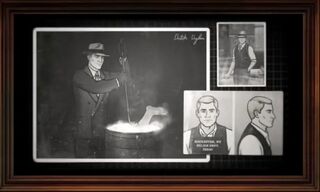 'Dutch' Dylan is the dream persona of Barry Dylan, in Season 8: Dreamland. He is the hired henchman of Len Trexler's dream persona and, once again, Archer's nemesis.
Appearance
Edit
He appears as a trenchcoat-wearing henchman, before being transformed into a denim-clad cyborg (legs and arms only) which he acquires from a biker.  Oh, and a floppy hat.
Character Traits
Edit
Psychopath
Murderer
Likes dissolving people in acid
Plot Involvement
Edit
Dutch is a hired killer / enforcer for Len Trexler who, in
No Good Deed (s8e1), has his feet are crushed by Archer

;
Jane Doe (s8e3), is wheeled out of hospital by Krieger;
Ladyfingers (s8e4), is turned into a cyborg by Krieger;
Sleeper's Wake (s8e5), escapes from Krieger's lab and finds clothes/boots/motorcycle;
Waxing Gibbous (s8e6), kills Trexler's gang;
Gramercy, Halberd! (s8e7), attempts to kill Archer's gang;
Auflösung (s8e8), tries to kill Archer's gang again before being killed by Krieger's RoboDogs / Cyberhounds.  
Plot twist
Edit
*spoiler alert* Dutch is Woodhouse's killer (for whom Archer is looking all along). If Archer hadn't run over Dutch's legs - an act which lead to him being turned into a cyborg bent on revenge - then Archer may never have discovered Woodhouse's killer.*spoiler alert*
Continuity
Edit
Archer's Nemesis
Catchphrase: "Later"
Cultural References
Edit
Evil Tropes
Edit
'Dutch' Dylan parodies a mixture of evil tropes:[1][2]​ beginning as a Psycho For Hire [3]​ in ​No Good Deed (s8e1)​ he
creates a tableau of corpses which is a parody of the Last Supper, and is reminiscent of the Poetic Serial Killer[4]​ (ie. Dexter, or Hannibal)
commits evil and violent acts[5]​ for revenge against Archer (for running over his feet) and Trexler (for having him turned into a cyborg).
this list is by no means exhaustive.  More evil tropes here[8]
tba
Dutch:  "You know the definition of insanity?"
Trexler:  "You - you're the definition! YOU!"
Dutch:  "Ah, that was rhetorical, shitheel"
Dutch:  "The definition of insanity is..."
Figgis:  "Suppressing fire!!!"
Trinette:  "What, d'ya eat a bunch of magnets?!"
Poovey:  "Seriously..."
Dutch:  "...doing the same thing over and expecting a different result"
Figgis:  "Ahhhhh!!" [runs away]
─────────────────────────
Gallery of Images
Edit
References
Edit
Community content is available under
CC-BY-SA
unless otherwise noted.